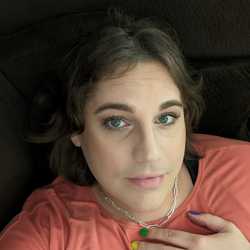 Hi! I'm Zoey Bush, and welcome to my personal website. I'm a graduate from UC Berkeley and currently employed as a Software Engineer at Google working on Fuchsia, a new open-sourced operating system that is currently running on all first-generation Google Nest Hubs around the world, replacing Cast OS. In addition to my paid employment, I do many personal projects on the side.
My first foray into the world of programming came when I convinced my parents to give me one of their unused Palm Pilots. With that I was able to start learning my first programming language: SmallBASIC. From there I went on to learn Visual Basic, C#, C++, and Java before even leaving high school. In my last couple years of high school, I began working professionally as a Fortran developer for Berkeley Simulation Software, and as a C++ developer for Indowsway Software.
From there, I attended two years at Sierra College, before transferring to UC Berkeley and completing my BA in Computer Science in 2013. While in school I worked as both a math tutor at Sierra College, and as a GSI for CS61C while at Cal. After graduating, I worked for a few years at Cisco Meraki working on web development, app development, and was one of the principal developers on the company's ill-fated android-based desk phone the MC74 up until its launch in 2016. After which, I left to work at Google as a Site Reliability Engineer, for 4 years until I began work on Fuchsia.
At times, when I am able to tear myself away from my computer screen, I also have many hobbies. I enjoy hiking, flying kites, and biking. I am trying to teach myself woodworking, piano, and music production. I like to to cook, write, and make art. I love spending time with my friends and partner. I also, when I can, love visiting with my family, including my three niblings Harper, Brock, and Sloane.